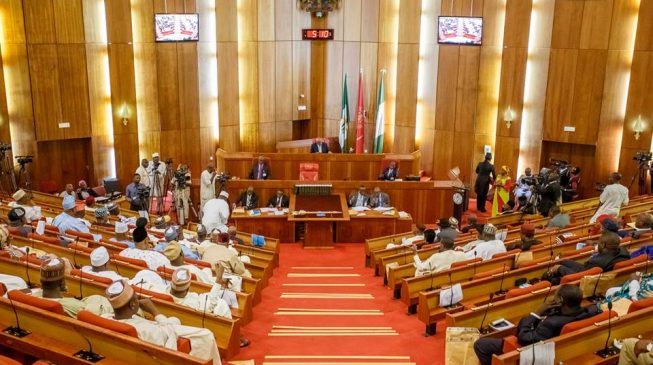 The duo of Ndume and Omo- Agege are to appear Wednesday before the Senate and House Representatives Joint Committee that is Investigating the Incident of the Senate Chamber Invasion on their alleged roles in the attack of the Senate Hallowed Chamber on April 18, 2018 and subsequent carting away of the Mace, the symbol of authority.
He was suspended by the Senate because he openly criticised the amendment of election sequence, accusing the senators of disfavouring President Muhammadu Buhari.
Ovie Omo-Agege (APC, Delta) and Ali Ndume (APC, Borno) were summoned for allegedly aiding the invaders who stole the senate mace.
"Having regard to the settled position of the law as expoused by our courts in not less than five cases wherein the suspension of legislators by legislative houses was annulled and set aside the Senate should withdraw the appeal filed against the judgment of the Federal High Court in the case of Senator Omo-Agege".
According to him, the Senate and Saraki have only applied for a stay of execution at the Court of Appeal which has not been granted.
Na'Allah said it was in order for them to respond to the allegations levelled against them.
"Two, the order of the court is a declaratory order". The order that the court made, nullifying my suspension with immediate effect, is a declaratory order and it is not ' stayable ' in law.
"Therefore, I expect them to fully comply with that judgment". That by itself is contempt. He who comes to equity must come with clean hands. Therefore, he is not entitled to an equitable relief in court. "If they don't comply with that judgment, I have further remedies provided by law". They have the right to appeal and they have already filed it.
Na'Allah, who read out the synopsis of the letter to be sent to the senators, noted that testimonies given by various security personnel at the National Assembly Complex before the panel implicated Omo-Agege and Ndume.
Taiga, while speaking with newsmen at the weekend, said the Urhobo nation was being denied representation at the red chambers and that there is an urgent need for the leadership of the Senate, especially Senate President Bukola Saraki to see to it that Senator Omo-Agege is immediately recalled to take his rightful place in the upper chambers.
Saraki had said: " It has been inferred in many quarters that this group of thugs and urchins were led by a serving distinguished Senator of the Federal Republic of Nigeria, (this) is most despicable and unspeakable requiring appropriate sanctions against perpetrators".